MARK'S (NOT SO) DAILY BLOG
What's that cooking on your Weber?
I know that I'll be frowned upon by certain purists. That's because no matter how much people love a real fire, I'm a gas guy. And that's okay. I simply don't have the patience to work with coal. I want to flick a switch and know my fire is instantly raging.
That's why, when it came to deciding on a BBQ for my new home, I went with the Weber e320 Spirit 3-burner gas grill.
First of all, you get what you pay for. There are definitely cheaper 3-burner gas grills out there, but Weber is the Rolls Royce of the brands. Having just bought a new home I wanted to get the right BBQ that will last me for years. As the unit will be sitting on an exposed patio, I also opted for Weber because I know that it won't rust after the first year. Even with a cover, the legs/wheels always land up being a little exposed and my previous braai (South African word for BBQ) landed up looking a little shoddy with the rust marks.
So with all the models to choose from, which one is for you?
I opted specifically for the e320 because 3 burners is an ample grate size and it also has a convection cooking lid. Believe me, you simply have to do a rotisserie chicken!
(Tip: I let it rotate for 2 hours at about 190C using the indirect cooking method of keeping the burner underneath the bird off so it doesn't burn. Also, use a drip tray so that the fat/oil falls into the tray and not on a burner which would cause flare-ups).
In fact, I probably use the rotisserie more than I use the open-style grilling. My wife is Greek and we even did Souvla chicken on it:
After using the braai for a few days, I got adventurous and bought the pizza stone accessory. You'll notice in first picture of the e320 (above) there is a circular cut-out on the grilling plates. This is to be able to slot the pizza stone onto the grates. It's a ceramic plate that you heat up to about 450C. It distributes the heat evenly on the pizza base and also absorbs the moisture of the base, giving you a superbly crispy pizza bottom.
The trick with the pizza stone is to let it heat up with your burners otherwise it can crack from an extreme temperature change. I let it sit there (with the lid closed) for about 30 minutes with the burners on high. The temperature should go to somewhere between 450C and 500C.
While that's heating up, prepare your pizza
(Tip: Get the raw pizza bases from your local pizzeria!).
Each pizza takes about 8-9 minutes depending on how crispy you like your base. My first one cooked for about 11 minutes, but the base was a little overdone. Cutting the time down to 8 minutes 30 seconds worked for me (I'm a radio guy, so every second counts!). What comes off the Weber is mouth wateringly delicious...
The Weber brand is great because they have so many add-ons which are readily available at most stockists. I would definitely recommend getting the rotisserie and pizza stone.
I initially thought the gas bottle was stored inside the chassis, but it's actually strapped to the side of the braai. Not sure why, but at least you can still wheel the braai around without needing extra hands to hold the gas bottle as you move.
What I almost forgot to mention is that the big difference between the e320 and the older e310 is that the newer model also comes with a stove plate on the left hand side of the convection lid. This is not something I'd use on a regular basis, but it will definitely come in handy if I need to cook something in a pot when the power goes off.
So, should you spend a little more and get a Weber? In my mind, it's well worth the investment.
The latest Apple announcements (without the jargon)
Firstly, apologies. I used to blog every day, which slowed to once a week, and now its been 2 months! Shame on me. The reality is though I simply run out of time at the end of each day. Most of my spare moments are dedicated to getting up at 4am and studying (been doing an MBA over the past 18 months, with another 2.5 years to go).
Having said that though, when Apple held their live media event, the world stood still (well, for me anyway). To say I'm an Apple nut is an understatement, so I was ready with my pen in hand and red wine on the table.
This was probably one of biggest Apple announcements in recent years simply because it's a major advancement with the new iPhone.
To clarify, Apple revealed 3 new iPhones. Two of them were par for the course as it was a natural advancement from the existing iPhone 7 and iPhone 7 PLUS... except the advancements were bigger than usual so they skipped the naming convention of calling them the iPhone 7
S
and iPhone 7
S
PLUS and Apple went straight to calling them
iPhone
8
and
iPhone
8 PLUS
.
This meant that the third iPhone they released (which for months we called the iPhone 8) was named the iPhone 10 (but written as
iPhone X
). Why 10 and not 9? Simply because THIS iPhone is leaps and bounds ahead of even the other 2 new iPhones and the nomenclature refers to it being 10 years since the launch of the original iPhone.
So what is new about the 3 iPhones . Well, here is the non-gadgety summary that my wife understands:
iPhone 8 and 8 PLUS
Harking back to the days of the iPhone 4, it's now once again glass on the front AND back. You better get a phone cover! It's faster than the iPhone 7 and comes with stereo speakers. It has a better camera. You can now charge the phone wirelessly by laying it on a charging pad.
iPhone X (pronounced "10")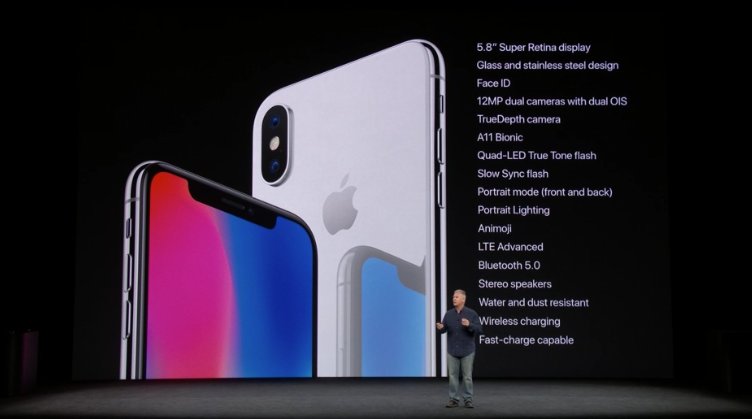 This is pure beauty. It's the first iPhone to use an OLED screen, which is thinner and more energy efficient. It makes the colors so much richer as well. What I love about this phone is that the screen size is BIGGER than the big iPhone 8 PLUS, yet it's body is SMALLER. Huh? How can that be you ask? Well, the screen takes up the entire real estate of the phone (no borders). As we do more and more browsing on our phones in recent years, i've always felt my iPhone 7 screen was too small, yet the bigger iPhone 7 PLUS was just too big for my pocket (trying to squeeze it in the pocket of my skinny jeans required immense skill and a readjustment of my doo-dab). So this iPhone is the best of both worlds. Smaller than the "big iPhone" with a bigger screen than the "big iPhone"!
Being a phone with a full screen it no longer has the round button at the bottom (home button). Now you simply swipe up to get to the menu.
It also now uses 3D facial recognition they call FACE ID to unlock the iPhone X (no more using your fingerprint). The "3D" part is important because with some other smartphones that use 2D facial recognition, you can hold a photo of the owner up to the screen and the device would unlock. Not so with this baby. It uses depth sensors to know whether the face its looking at is real or just a picture. Even if you decide to wear a hat, wear sunglasses or even grow a beard...the iPhone X knows it's you.
It will release in the United States in November, so maybe you're a little optimistic if you put it on your Santa list for Christmas.
Apple Watch Series 3
The Apple watch is now the #1 watch in the world.
Software improvements includes it now alerts you if your heart rate is deemed excessive when you're not exercising. It also monitors your heart beats for irregular rhythms.
Cellular is now built in which means it can work independently from your iPhone. You can go for a jog and leave your phone at home. The genius part is, it uses the same cell number as your phone (which in my mind says it uses data calls rather than voice networking, but I might be wrong here). With this connectivity, it will also enable you to stream music live from your watch to your bluetooth headphones, once again, without your iPhone.
Apple TV
It can now stream 4K content (which is 4 times better than HD). This won't really be the big reason so swap out your older unit for a new version as we don't have much 4K content to watch. Having said that, if you ARE buying a new Apple TV, it makes sense to get the newest model so you are not left too far behind with technology. Everything at a price though! Netflix should give you a 4K viewing option soon (you would need a good fibre internet connection).
Conclusion
So the question most people are asking is whether they should upgrade their iPhone 7, and if so, should it be to the iPhone 8 or iPhone X?
The answer is simple. If, like me, you love gadgets and absolutely devour technology then the iPhone X is definitely the only option. Also, the biggest selling feature for me is the huge screen housed in smaller "real estate" than the iPhone 8 PLUS.
If you're not too fussed about bells and whistles and you have an iPhone 6 or 6s, it's time to upgrade to the iPhone 8, or wait a few weeks for a reduced price iPhone 7.
If you're not too fussed about bells and whistles and currently have an iPhone 7, an upgrade might not be worth the money.
My latest gadget review
My wife is not so gadgety, so when I get a new device I like writing a quick blog about it in layman's terms without all the technical mumbo jumbo. I got 2 new devices this past weekend that I quite like and thought I'd share with you:
Beats Solo 3
You get 3 main categories of headphones:
In-ear earphones: These are the types of earphones you wedge into your earhole (like those that come with your smartphone)
On-ear headphones: These usually have a band over your head and have medium sized capsules that are about the same size as your ears
Over-ear headphones: These have a bigger capsules and completely cover your ear and normally seal the sound off (like radio studio headphones)
Unless you want to look like you're in a control tower trying to communicate with a plane, you'd rather go for a set of
in-ear
or
on-ear
ones when at gym or travelling.
Whilst I do already have reasonable set of in-ear earphones, I find that I'm constantly fiddling with the things in my ear and I can still hear a lot of ambient room noise, so they are often just not loud enough for me. So this past weekend my wife bought me a pair of
Beats Solo 3
wireless "on-ear" headphones and I'm in love. With the headphones. And my wife.
There are those in the industry who say you're paying too much for a Beats product. Yes, you do pay a premium, but you are getting a premium headset. The Solo 3's fit snugly on my ears and produce a phenomenal sound (some people find Beats have too much bass... for me, I like a good thump).
Besides the audio quality, this specific model has another little gem up its sleeve... battery life. Now that Apple have the licence rights to the product they've spruced it up with a W1 chip. What does that mean for you? This chip has increased the battery life from an average of 12 hours (which the previous model had) to an industry leading 40 hours! It only takes about 2 hours to fully charge the headphones again.
Also, if you're an iPhone user its now even easier to sync the headphones with your device. You simply hold headphones close to your phone and you get a screen-pop up asking if it can sync for you. No more having to go into bluetooth settings and trying to pair the devices manually.
Most retailers are selling the headphones for about R4999, but Takealot often runs them on their site at a few hundred rand less.
Zagg Ignition 12
How often do you find yourself scrambling to find a power outlet because your smartphone or iPad is about to go flat, but you still need to use the device? Well, the solution is to have a portable power charger with you. It's essentially a spare battery that you have pre-charged and it supplies power to (and charges) your own phone's battery without you needing to find a plug socket.
They come in all sizes, but if you can think of it like a bucket, the larger the bucket, the more water (or in our case, power) it can store. The "size of the bucket" is usually measured in mAh. Don't worry about what it means, suffice to say a device that might be the size of a triple thick credit card might charge your phone once and is about 2300 mAh. A power bank the size of a pack of 20 ciggies might be about 5000 mAh and charge your phone twice.
Well, I just got sampled with the
Zagg Ignition 12
, which is the size of a tiny clutch purse (an analogy for my wife) and packs 12000 mAh, which means it can charge your smartphone 4 times before going flat, or fully charge an iPad and smartphone once. That's a lot of portable power in your hands.
But what makes the Zagg Ignition 12 stand out for me is 2 extra little features built in.
It has 2 charge speeds. It has a 1Amp USB port (that charges about the same speed as a normal phone charger) and a 2.1Amp USB port (which charges an iPad at normal speed or an iPhone much faster).
A little gimmicky, but could come in handy, it has a LED torch light built in.
This is not the kind of power bank you want to keep in your pocket as it's quite heavy, but it's ideal if you're going away for the weekend camping and need to keep your phones charged, or as an emergency power backup at home. It should retail in stores for about R699 (the supplier did mention it's in the Takealot store, but I couldn't find it there sth time of writing this blog).
Happy gadgeting!
See Older Posts...